Let's talk about the best apps to have on Shopify. I often see people complaining that Shopify requires too many paid apps to work and I completely disagree. With most stores, I set up just few (usually free) apps and then add apps depending on the specific needs of the store. It's often the case that the problem can be solved without an app, but knowing what can and can't be solved with an app requires some experience on the platform.

You can solve many problems by making changes to the theme code, rather than by purchasing an app. Take installing a custom Shopify font for example. Do I know many people who have unnecessarily paid $10 for an app to do this? Yes. Does Luna have a blog article that tells you how to do this for free? Also yes. You can read that here.
It's important to only install the apps that really help your customers and your conversion because apps can slow down your store. And we all know that a slow store does not convert visitors into customers very well. Try to always avoid installing apps for something that you can achieve by custom coding. Extra apps = extra money fees + a decrease in site speed.
Essential Apps for Shopify
Here are my 4 essential apps for Shopify:
1. Product Review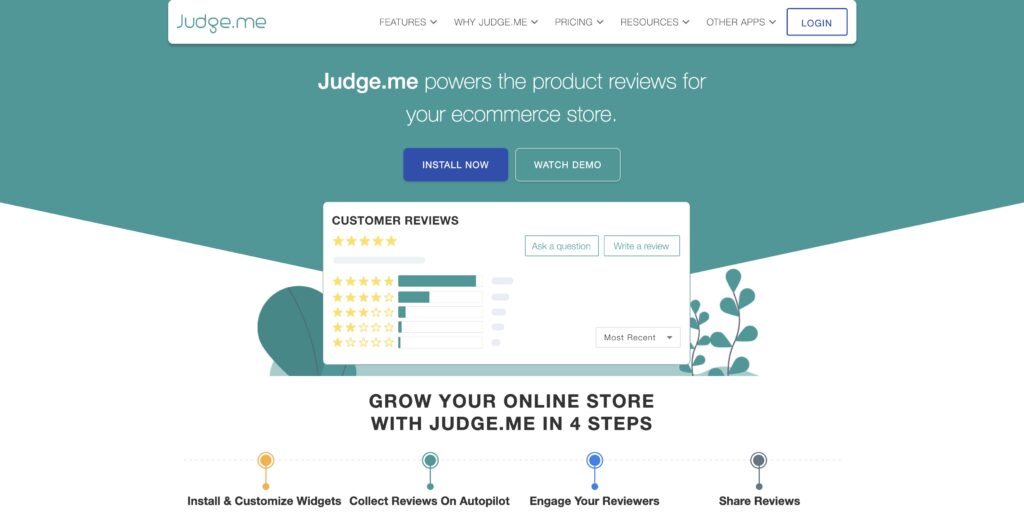 A product review app will let you build trust with your customers by letting customers publicly provide feedback on the product and their experience with your brand. When other shoppers see this feedback, they will see that others have indeed purchased and received the product, and better know what to expect. They're more likely to purchase from you.
My go-to app for this is Judge.me. They include a lot on their free tier including automatic emails that ask your customers to upload a review. The paid tier will allow you to make some extra customizations and for customers to be able to upload images as well. Stamped.io is another one that is interesting because you can use review forms that collect customer attributes. Imagine you buy some shorts and the review app asks how the fit was, what activity you use them for, what size you bought and your measurements. Those customer attributes help future customers purchase the right product for them and reduce return rates.
Shopify does have their own app that does this called Product Reviews but it lacks any additional features such as emailing your customers reminders, or collecting customer attributes. Premium themes that have reviews 'built in' are actually using this app. I don't really recommend it since it lacks basic features.
2. Instagram Feed
If your products are highly visual, you're probably building your audience on Instagram. In this case, you'll want to attract your website visitors to your Instagram feed if they're not already following you.

I'd suggest putting your Instagram feed in your website footer so that it's on every page and can't be missed. My go-to app for this is Covet.pics. I love that they offer so many layout options, and even manual product tagging on the free plan. I'm sure there are other great Instagram apps out there but this is the one I've been using since my start with Shopify.

The only thing to watch out for is that every so often, the feed will break and you'll need to reconnect your Instagram account. This is a security feature of Instagram.
3. Email Marketing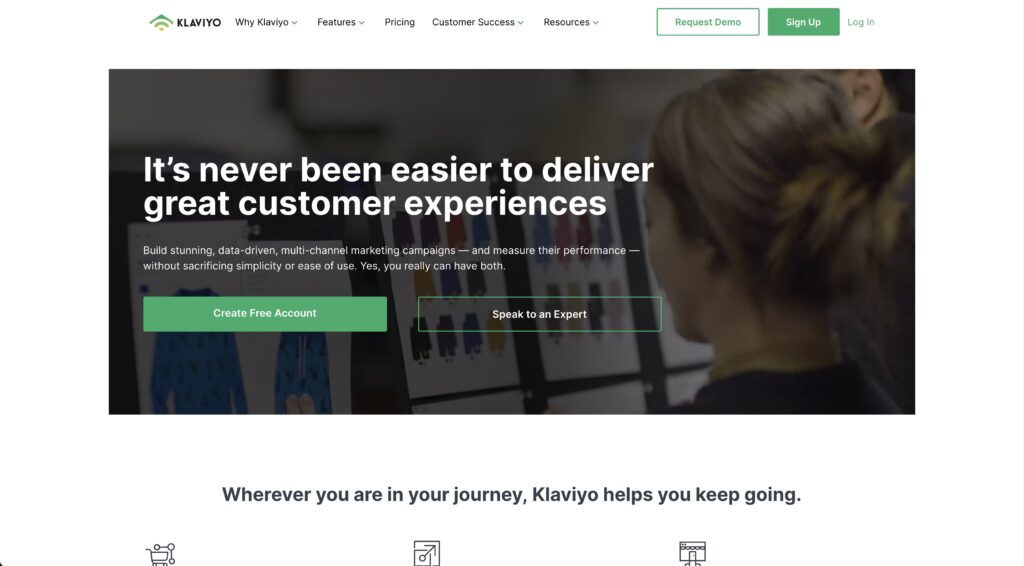 Email marketing is one of the best ways to have a direct way to contact your customers. Collecting customer emails or phone numbers is absolutely necessary for running successful campaigns, informing customers of new products and generally for keeping your brand top of mind. You don't want anyone forgetting about you or losing touch.

So of course, you need a tool to help you reach those customers. Shopify's own tool for this is Shopify Email. It's quite new so its tools are quite limited but it's very, very inexpensive and gets the job done if you're not picky about the aesthetic.
Largely regarded as the best tool for Shopify email marketing is Klaviyo. However, it can get pricey… and fast! So if you go with Klaviyo, you'll want to make sure you're making use of all its features and that your marketing tactics are paying off!
There are several other great email marketing tools that balance features and price. You can look through the app store and see which best fits your needs and budget.
By installing one of these apps, you'll automatically have details of those who fill out your newsletter form, and purchasing customer emails will be sent to the app into the appropriate list. You can then target certain groups for different email campaigns.
4. Geolocation
If you have customers shopping from different countries, you'll want to show them prices in their own currency. Shoppers are much more likely to purchase when they can see the price in their home currency. You might have noticed that your theme includes a currency selector but you're not sure why it isn't showing. For this, you'll first need to select which currencies you'd like to accept in your Shopify Payments settings. Then you'll need to install Shopify's geolocation app. Geolocation by Shopify is the currency selector that comes built into Shopify themes works. That way you know the styles will match everything you've already set up in your theme. The app is basic and includes the currencies you've enabled in your shop.
Other apps like BUCKS Currency Converter Pro (also free) offer far more features and are a lot more dynamic. In addition to showing currencies that are in your currency selector list, it is also able to show the visitor any country's currency, based on where they are located. It also comes with styling options but knowing some CSS will be helpful for making it fit in with your theme. So your choice will depend on where your visitors visit from and how many currencies you want to offer.
---
More Shopify Apps
Now that we've gotten through the apps that I think are useful for any store, let's take a look at some others. Remember that what's a "must-have" in one store might not be for yours. This is where research and knowledge of your customers and product niche are important to consider.
Store Locator
If your product is carried in brick and mortar stores, help customers find it locally. This way they can try it on for size or avoid shipping costs. My favourite is Stockist Store Locator which allows you to add a custom icon for store locations on the map. The Google Maps widget by Elfsight has a very similar user interface and comes at a lower price point (but it does lack the custom map pin icon).
Store Backups
Have you ever accidentally deleted something in your store, or made a change to the code and broken some functionality? Rewind Backups keeps daily backups of your store so that you can restore pieces or the entire store if you ever make a mistake. It's the app you hope you never have to use, but will be so thankful to have when you need it.
Digital Downloads
If you're selling digital files, this will make it possible for customers to immediately receive their product after purchase. Here's Shopify's Digital Downloads app.
Product Bundles
A bundling app will allow you to offer a discount on specific combinations of products or on minimum quantities of product. It will also maintain the inventory levels for each product even when bundled. Bundle Bear works well and their customer support is superb.
Cookie Notice
If your store is accepting payments online, displaying ads or collecting visitor information (which it is if you're on Shopify), then you need to make sure that your website is compliant with the General Data Protection Regulation (GDPR) and the California Consumer Privacy Act (CCPA). You'll need to disclose that your website is using cookies, and in some cases, require users to acknowledge and accept this before proceeding. Use Shopify's own Customer Privacy app or a third-party app like GDPR/CCPA + Cookie Management to help implement this. It's worth noting that not complying with these regulations can result in large fines to your business.
Wholesale
For shops that want to sell wholesale to other retailers. Display wholesale prices to only logged-in wholesale customers with an app like Wholesale Gorilla. Or, become a wholesale dropshipper by helping other stores easily add your products to their store and with an app like Syncee for Suppliers.
Chat Bot
Use a chatbot to lighten the load of customer service questions with automated support responses for frequently asked questions. Also, consider a live chat using Facebook Messenger or WhatsApp so that you can help customers during the checkout process.
Upsell
Boost your average order value by providing additional product recommendations on the product or cart page so that customers can quickly add to cart. Imagine the low-ticket products you see when waiting in line in a physical store. Conversion Bear is my favorite because they are always adding new features and their support staff is soo helpful! Get a special 30 day extended trial with our referral link here.
Wrapping Up
These are just a few of the most common apps that I see in use. Everyone will need something different depending on their product and marketing strategy.

When testing out a new app, I always recommend first duplicating your theme. When an app is deleted, it can still leave behind code that slows down your store, so unless you know how to manually remove it, working on a duplicated theme can let you test out different apps until you find the right fit, without having to worry about your theme code becoming polluted. A change to this leftover code problem is coming soon to Shopify.
Let me know if you found this article helpful or have any questions by leaving a comment below. Thanks!

If you found this helpful, you might like to check out our Shopify Store Launch Kit.